About Park Models
It is quite difficult to find good information on park models. After a lot of searching we have located some sites that provide information but even those tend to be more generally about mobile homes and/or recreational vehicles.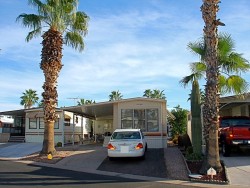 The average park model is really very inexpensive. (see: h ow much will it cost)
Many used park models on 'rented' lots are available for anywhere from $10,000 and up. But most are priced in the neighborhood of $15 to $65,000 but can range
much higher with a lot of extras.
In resident-owned parks the whole cost
changes because you are now buying not
only the actual unit but also the lot or your share
in the park itself ... with an assigned lot. Prices
normally start at maybe $80,000 and up.
They are all about the Same Size


400 Square Feet
- But that can be Misleading -
The park models all start out at about 400 square feet. But then a storage room gets built and maybe an Arizona Room. There are all kinds of creative modifications done to enhance the living space. The climate allows for some pretty basic enclosures to be added that functionally serve as an addition to living quarters. But still generally retain the legal status as a vehicle.
Park models in Arizona cannot exceed 400 square feet if they are to benefit from vehicle status and not be subject to standard residential taxes.
We eventually learned why that is. It seems that there was a municipal taxing issue of
how to tax a park model if it is essentially permanently parked on property. At
what point is it a 'trailer' (classed as a vehicle) and at what point is it a permanent
residence. It still may even have wheels and can be moved.
A method was needed to distinguish between the more permanent mobile homes in a
standard trailer park and those classed as vehicles. It was decided to use square
footage. Under 400 square feet is a vehicle and legal ownership titles are handled
by motor vehicles.
The common width is 12 feet so the length is normally just over 30 feet. But there are still some that are narrower.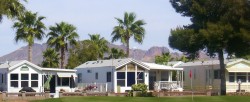 Most units appear have pitched and
shingled rooflines.
Windows and doors are more like a
house and interiors also more
house-like.
A very typical unit may be
10 to 15 years old. The ones shown
at the left are commonplace.

Then there are the 'higher end' units that have been added to and modified.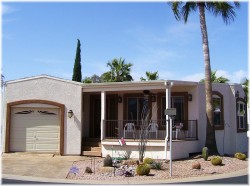 These tend to be more common in the resident-owned parks (but not exclusively).
The owners in these parks have a much higher investment and monies spent adding to the unit represents a far smaller percentage of the unit total cost and possibly less risk.
A variety of modifications and additions have added a lot more space and may even include a regular attached garage.
The end result is some pretty elaborate set-ups for what began as a 400 square foot park model.
The Inside Living Space
Nearly all the Park Models have that standard layout (as already shown in the diagram) of the living, dining, kitchen area at the front of the unit. Bathroom, storage, and rear/side door in the middle and bedroom at the back. There are some variations on this but those are pretty rare. (The Park Model used in the following section is about 12 years old.)
Front Living Area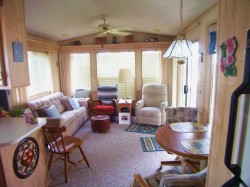 Probably more than half of the space is the front
living, dining, kitchen area.
The open design adds both
spaciousness and versitility. It is a
very practical layout.
Most units have ample windows and
combined with the front entry patio
doors they are very bright and
open.

The Kitchen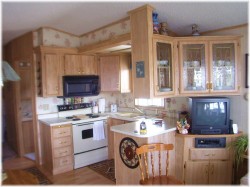 The kitchen setup makes good use of space and generally there is ample cupboard space.

Most units also have some type of china cupboard and extra storage.
The appliances are pretty well what you will have at home with possibly one exception. Propane is not uncommon.
Dining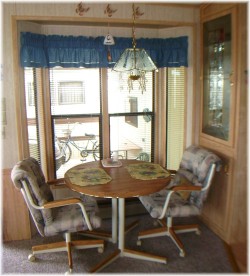 The dining area is usually set up for two or four
people. There is often a second china cupboard and
possibly additional storage in this area.
The dining area can be quite small but is really all that
most need. Most units are only occupied by two people
and most of the entertaining is done outdoors in the
patio area or Arizona room.
Bathroom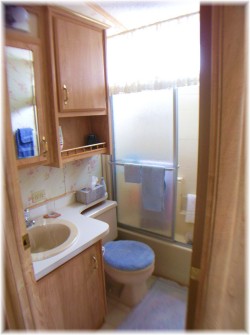 Bathrooms are pretty standard four piece. Usually quite small,
at least compared to todays large facilities in many homes. But they have come a long way from those tiny old travel trailer bathrooms.
They are certainly very functional and are getting a bit larger
in newer units. They also have pretty reasonable storage
space.
Bedroom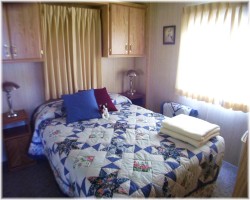 Bedrooms tend to have quite a bit of closet
and other storage space. Usually one wall is
dedicated to double closets and drawers.
The standard bedroom is probably in the
range of 110 to 120 square feet. They are
quite adequate. Although a king bed may be
a tight fit.
The Outside Living Space
Nearly all the park models sit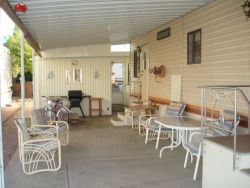 on a lot that provides anywhere from about 15 to 25 feet of side yard. Normally that side yard is covered 'patio style' and serves outdoor living and vehicle parking.
Some parks have deeper narrower lots allowing parking in the front while others are wider and allow parking at the side.
The climate is so conducive to outdoor life that the patio area can become like an added living room. It is possibly the most common area used for entertaining and maybe even regular dining. (No bugs remember)
The Storage Shed - More living space
An important part of the park model. When you consider the limitations on unit size the storage shed becomes far more valuable than your old shed in the back yard at home.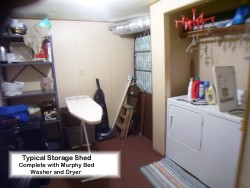 A storage shed is common fare and they are usually about 8X10 feet or larger. They are extremely valuable, especially when you consider you have no basement and the unit size is limited. In fact I don't know what you would do without one.
The storage shed is rarely just a place for storage. Of course they are used for storage but the creative uses are pretty wide ranging. They are a natural location for a workbench and a common use as a place for your own washer and dryer.
But sometimes larger sheds are almost used as extra living quarters ... TV or computer rooms and even the odd one with a mattress for extra visitors. Although probably against some rules they do tend to serve in an emergency.
The Arizona Room - Even more living space
Many people add a room at the side of the unit to provide some extra living space. These rooms are known as 'Arizona Rooms'. They are constructed in varying sizes over part or even all of the side or patio area. (Apparently in Florida they are known as a 'Florida Room')
Some are quite basic and others much more elaborate.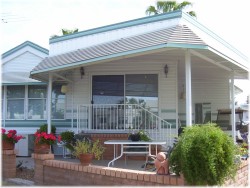 They serve a variety of purposes including
space for guests with some even adding extra
bathroom facilities.
But probably the most common is for the
Arizona room to serve as a type of 'family
room' ... similar to the one in your house
back home.



Extra Room for Guests
It seems every park model has a sofa bed (or whatever they are called in your area) to accomodate extra guests. They are pretty well standard fare in the living room. And just as common in the Arizona Room.
Visitors are common in the parks and it is easy to tell when it is 'spring break' or (naturally) Christmas and other holidays. The kids and grandkids come to visit. And of course friends from 'back up north' will visit to experience some winter getaway.
The Vegetation
Most parks have a variety of plants and some lots may have small growing spaces. And of course there are the Citrus Trees, Palm Trees, and the Cactus.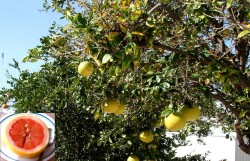 Breakfast in the Back Yard?
The citrus trees are commonplace throughout the parks. It is quite common for a lot to have mature grapefruit and orange trees.

They are a very special treat for us northerners who can't imagine going out in the morning and picking off some grapefruit and oranges
for breakfast. But that is pretty normal for many RV park residents.
Palm Trees - the unofficial emblem of RV Resort Parks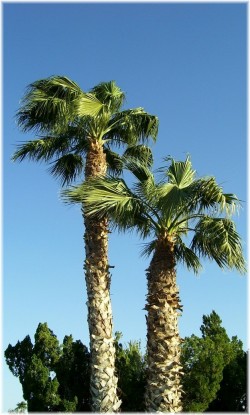 And of course a symbol of the south to us northerners are the palm
trees, a common site in the parks.
They epitomize a warm holiday place for those of us who only see
them in pictures. And that is probably why they are used as an
attraction for the northerners.
If you can't find the park just look over the landscape for a collection of
Palm Trees and that may be it.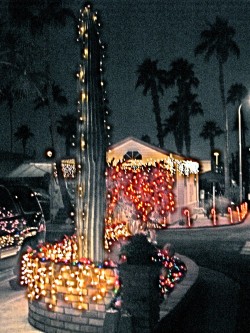 Cactus
And the cactus is also a symbol.
It is a symbol of the desert. There are many varieties, some only found in desert locations. They are a common fixture on RV lots.
There are wonderful cactus blooms in the spring and they certainly add to the flavor of the desert location.
The larger cacti often take on the role of Christmas trees when that season roles around. (The picture on the right was taken last Christmas in an RV Park in Apache Junction.)
Checking Park Model Condition
Age

Roofs

Floors

Wiring

Plumbing

Termites

Heating

Air Conditioning

Swamp Coolers
The condition of the park models will of course vary widely. Older units can have some real serious problems. They are generally not constructed to the same standards as most houses so judging the expected condition of the unit by age is different than for the typical house. (A twenty year-old park model is viewed as much older than a 20 year-old house ... also see watch out for the rules section about impacts of park model age.)
A couple key items to look for are the condition of the roof and the floor. Roofs are most vulnerable. They can certainly be prone to leaks and weakened by previous water damage.
Older park models came with metal roofs and a common site is an old roof with patches over patches. Newer units have traditional shingled roofs and are really not much different than your normal house roof.
Floors can become weakened from previous water or termite damage. What seems like a simple floor squeak can be a sign of bigger problems. It is a good idea to have a look under the unit to see the condition of the floor.
Electrical wiring can be somewhat less than up to normal household standards as well. Again, this can be more of an issue in older units where modifications may have been made over the years.
Plumbing in park models is often done using plastic water lines and over time some of this older plastic becomes hardened and can easily break, especially at or near joints. Plumbing is usually not that hard to access and lines can be repaired and even (quite easily) updated.
Another common issue in the Phoenix area is the termites. They can really wreak havoc with a park model. They are common and if the owner hasn't done proper prevention they can infest the unit.
If you are not familiar with what to look for it may be a good investment to have an inspection by a pest control company.
Heating and cooling equipment should also be examined closely. There are a few differences in what is used in park models and this can impact your operating costs.
Cooling is by central or window air conditioners and an item we had never heard of before, the 'swamp cooler'. Swamp coolers are most common in much older units and are quite a reliable and inexpensive method of cooling. But they only work in very dry climates.