Lifestyle and Experience
The Arizona RV Resort Park Experience
There are few places that offer the winter climate available in Arizona. The desert location provides winter weather that is conducive to outdoor life.
Relatives of ours used to spend three months each winter in a Phoenix area park. Family would comment on their return that they always looked healthier in April than any other time of the year.
Our first experience in a park was amazing and surprising.
I have never seen so many older people golfing, playing tennis, shuffleboard, in a swimming pool, and generally out-and-about.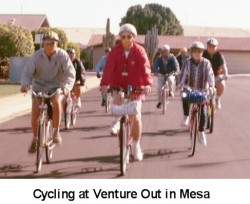 A common mode of transportation in the parks is
bicycles. Almost everyone has one and I had to
get back on as well. (No you never forget but
those seats do seem a little harder than I
remember)
The biggest surprise was probably the weather
and lack of bugs. I had always imagined winter
in Arizona like (say) May at home. Some nice
sunny days, some calm days, some rainy days,
some cloudy days, some windy days, and such.
I was pleasantly surprised that maybe 90% of the days in February were sunny and calm. (see weather chart) Most days in February were around 20-25C (or 70-75F) with little if any breeze.
And the bugs. I never thought that critters would also hibernate in warm climates, but they do. During a six week period I saw exactly two bugs. I never realized before how pleasant it can be to have nice summer days outdoors without bug spray or swatting the critters off the food. It is quite pleasant.
What you Need to Know!
If you haven't done this before
There are a lot of people who are looking for a way to spend their winters in a climate more conducive to an active and enjoyable lifestyle.
The problem is that if you have not experienced any of the various options for that lifestyle it can be difficult to decide what to pursue.
There are a few things you need to consider before you decide whether the RV Resort Parks and a Park Model Trailer are for you.
Take the time to read about the lifestyle and experience, the parks, the park models, the weather, and ... Don't think of it as a Trailer!
A strange statement to make on a site that uses 'trailer' in its name. That was because the name 'park model' is not familiar to those who are new at this. Many asked about 'those trailers in Arizona'. But ... regardless of the name ... it is important to realize that you will probably feel more like you are in a cottage in a resort rather than in a trailer in some 'old style' trailer park.
You are not only in a resort you are in a 'community'. And a community that really does have some of that 'small town America' feel.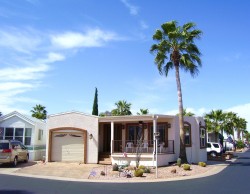 The park models are set up in a way that looks
and feels very permanent, and really almost
is. The driveway, patio, storage shed, and
maybe an Arizona Room and even small
garden area all add to the feeling of a more permanent residence.
Many of the facilities in your home are also available in the park model but some of it is
outside or down the street. As described in
the section About Park Model Trailers your
living space really extends to the outside and beyond. The pool and hot tub are down the street instead of in the backyard. The craft area, woodworking shop, laundry, music room, and other facilities are there for your use but just not in your house or yard.
Take the Time to Look and Browse!
Make sure to take the time to browse around the site.
If you are new at this experience make sure to take the time to read ... about the RV Resort Parks ... about the Park Model Trailers ... and About the Weather.
Check out some of the parks websites on the this page. Pay special attention to their facilities and activities. It will help you get a sense of what it is like.
If you are looking for a park model to rent or buy make sure you are familiar with all the park model and RV park options. Check out some of the ad listings in our 'featured parks' and in the park models for sale or rent section.
and ... Don't think of it as a Trailer!