About Us
Our first priority is to have a quality information site that meets the needs of snowbirds ... especially the new snowbirds.
Many new retirees up north do not know about the RV Resort Park lifestyle and seldom even know the term 'park model'. (We get questions about those 'trailers' in Arizona)
This site is designed to be a focused source of information on and about this lifestyle and a place to shop for RV Resort parks, park models and other needs. The site is intended to be a commercial enterprise, but certainly not a big one.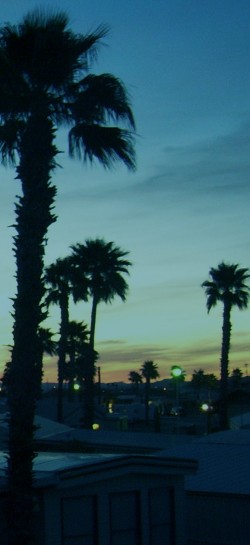 We are Lyle and Joan Pederson ... Canadians who are 'partly' retired. Lyle spent most of his working life in economic and business development ... with a long history of business analysis and consulting. Joan was a Deputy Minister and a senior policy advisor in government ... analyzing initiaives and making policy recommendations. We both enjoy challenges and helping people. The websites give us that opportunity.
We had friends who have reached that stage in life where they want lifestyle in the winters more like we experience in the summer. They had reached that age where keeping active is important and found that in the winter it gets more difficult to keep moving and doing.
They wanted to head south to warmer winter weather. Probably just like you.
We also watched as friends spent days going from park to park to look at bulletin boards, visit realtors, phone ads, drive by park models, and then waste everyone's time only to find that the unit is not to their liking.
A lot of that hassle could be avoided if they had sources of good information on the web that they could browse and then only follow up with those that meet their criteria.
There are not many sources online to get good information specifically on the RV Resort Parks, on Park Model homes, and on how and where to find rentals and sales of park model units.
There are places to find information but not neatly in one place. You can spend many hours finding bits and pieces here and there. We felt there was a need to focus just on Snowbird Resort Parks and that lifestyle. A very narrow niche market that has had little exposure online. Ideal for a small family operation to target.
We began by talking to people with knowledge and experience in the lifestyle, the parks, and the park models. We searched for sites of value and any other sources of information available. We then put together the site as a compilation of what we have gathered and learned.
We spend many hours each day helping (especially new) snowbirds with information and referrals. We place the highest priority on helping snowbirds because we realize without that traffic our site has no value.
We have no formal affiliation with any parks, suppliers, or others mentioned or referred to on the site. We are not responsible for the content of any ads or other reference to other sites, organizations, or individuals.
So ... How are we doing?
We are now entering our 14th year since the site went up. The interest has grown at a good healthy pace ... and still going strong. The sites help just under 60,000 snowbirds (or want to be snowbirds) each year. We get daily emails from people asking for help in finding a park model and/or a good park. Most of the people we hear from are new snowbirds. Just retired and looking for their winter experience in the sunny south.
So far we have not found anyone else promoting this 'industry lifestyle'. We seem to be alone in that intitiative.
We Want to Hear from You
We are not experts and probably many readers know more about park models than we do. But we want to begin by sharing what we have found and learned in our experiences. And we also want to hear from people with more experience than us to help make the site as constructive and useful as possible.
We welcome any and all comments, ideas, criticisms, suggestions, and (of course) information.